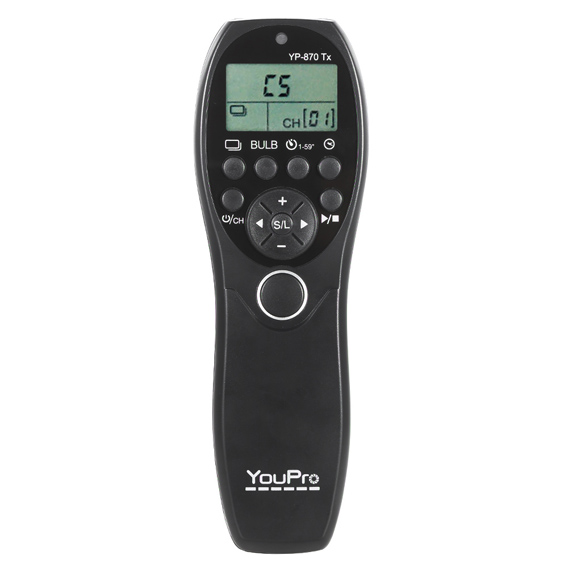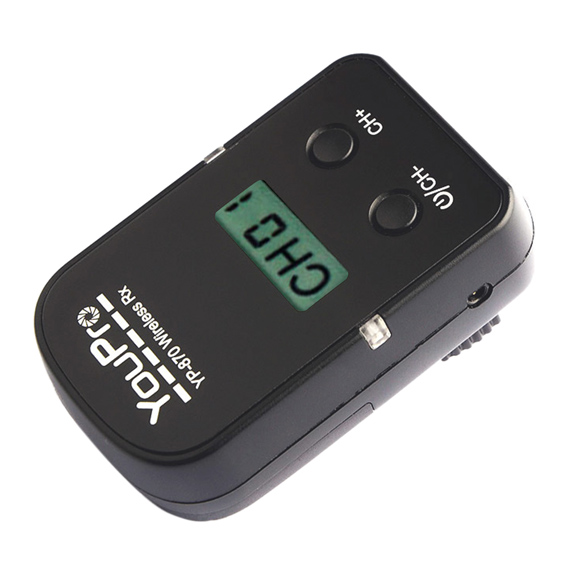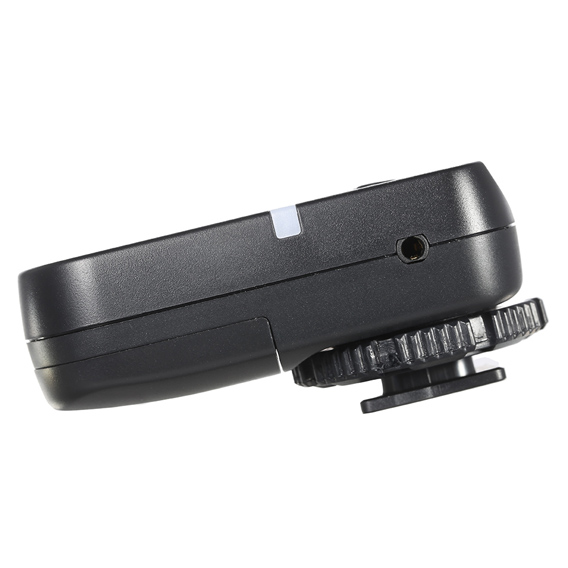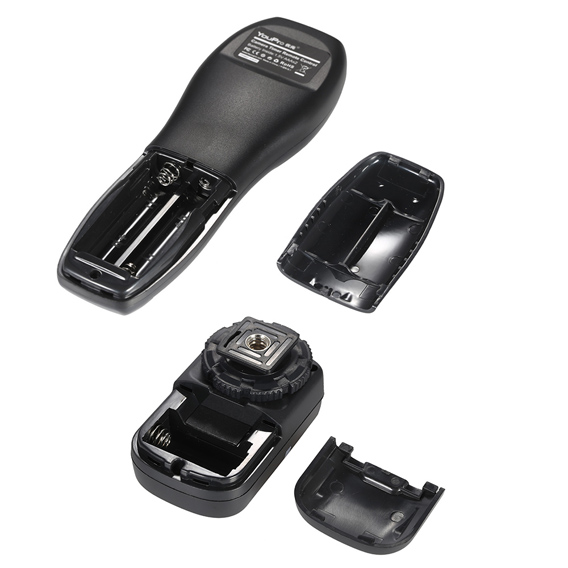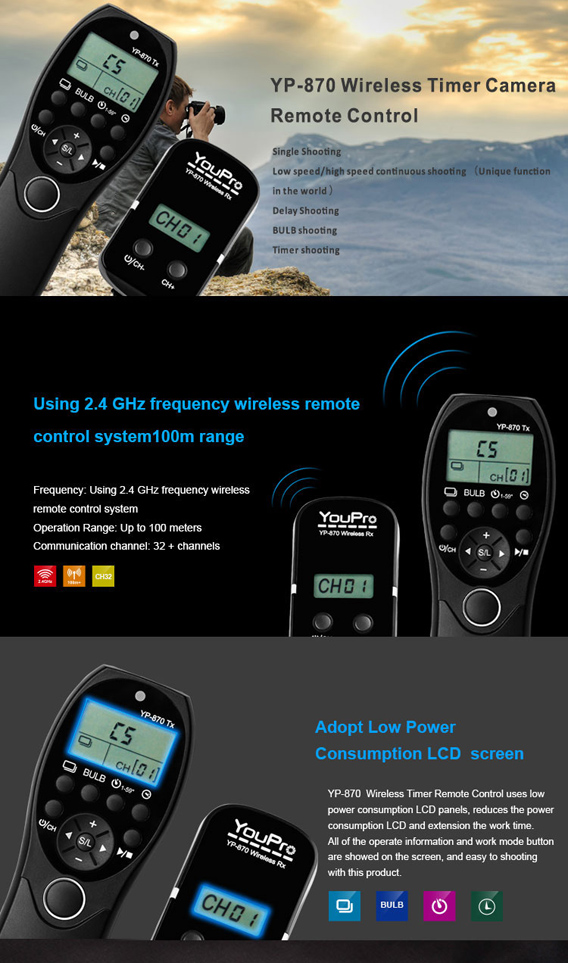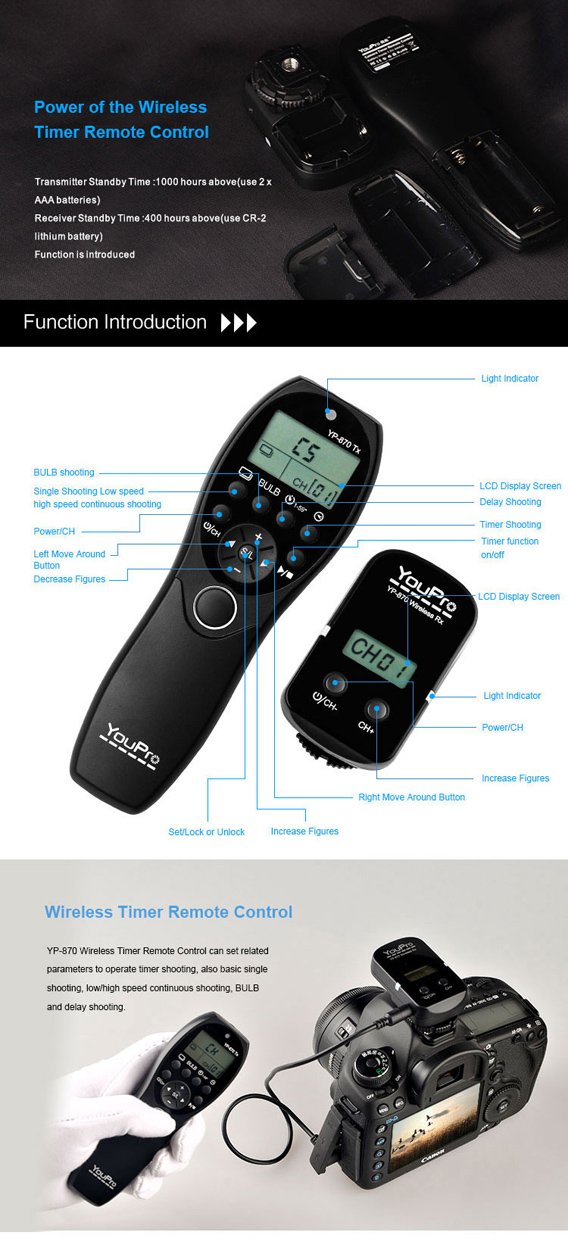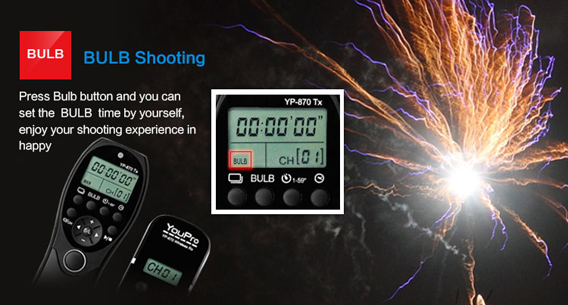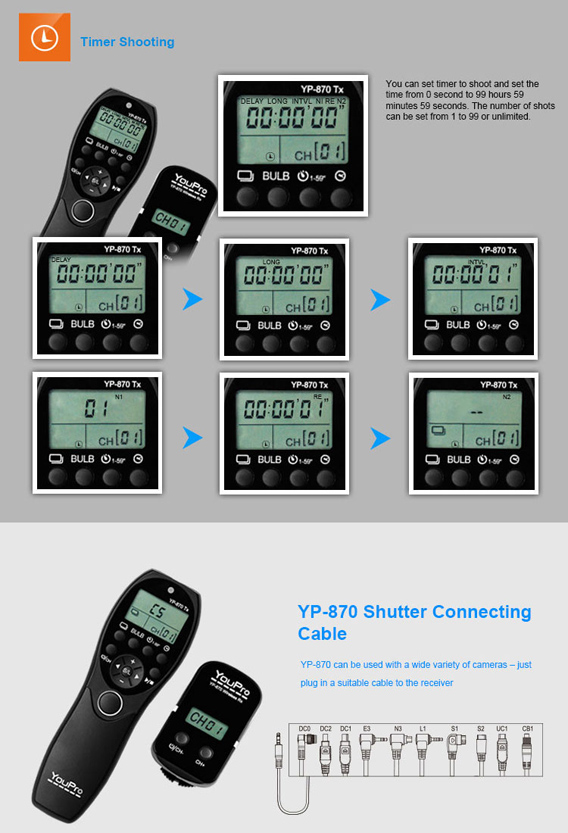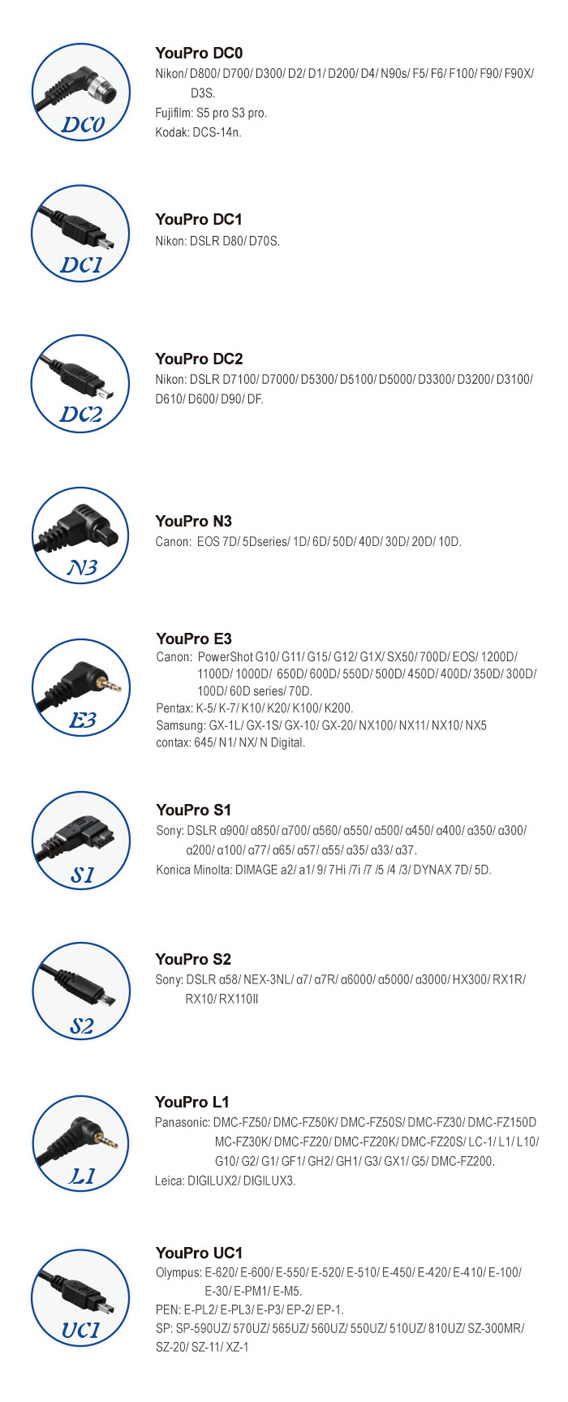 Features:
YP-870
Wireless Shutter
Timer Remote
doesn't just trigger your shutter wirelessly. It's also equipped to handle a long list of timer functions: self-timer, interval timer, long exposure timer, as well as controlling the number of continuous shutter releases. It works with a vast array of different cameras--just swap out the camera release cable for the correct camera. The transmitter works at distances up to 300' (100 m) on any one of 99 channels over a reliable 2.4GHz frequency.Timer delays, exposure times, and intervals can be set for up to 99 hours, 59 minutes, 59 seconds, in one-second increments. You can also choose anywhere from 1 to 99 continuous shots or you can set the ShutterBoss to take an unlimited number of photos. The receiver uses a CR2 lithium battery, and the transmitter uses 2x AAA batteries, which can last up to 4 years on standby.

2.5mm terminal 40cm Cable.
Unique Funtion
Low speed/High speed continuous shooting(Low speed continuous shooting 1second,Hihg speed continuous shooting 1/3 second,not need set the camera on Low/high speed continuous shooting)
Versatile
Receiver can be adapted to work with most other cameras by swapping out the camera release cable.
Channel
Selector99 possible radio channels, plus one universal channel, over the reliable FSK 2.4 GHz frequency.
No dip switches to set. One transmitter can trigger multiple receivers.
Extended Range
Up to 300' (100m)
Multi-Function
Trigger your camera wirelessly or wired.
Dual-Function
ReleasePress halfway to focus; press full to trigger shutter.
Delayed Release
Delay function gives you extra time to get into position.
Multi-Exposure
Take multiple shots with one press of the trigger.
Interval Control
Control the amount of time between multiple shots.
Long Exposure
Control the length of the exposure remotely.
LED Indicators
Confirm pre-focus and exposure.
Ultra-Low Power
AAA transmitter batteries can last up to four years on standby.

Specification:

Frequency

99 selectable channels over FSK 2.4 GHz

Range

100m

Exposure Range

0s to 99hr 59min 59s in one-second increments

Interval

1s to 99hr 59min 59s in one-second increments

Number of Shots

1 to 99 (programmable) or unlimited

Operating Temperature

-4 to 122°F (-20 to 50°C)

Dimensions

Transmitter: 5.2x 1.5x 0.5" (13.5x 3 x 1.5 cm)
Receiver: 2.5 x 1.5 x 1.2" (6.3 x 3.8 x 3.1 cm)